The goal for this project was to organize the work for external engineers
Each engineer is using an Intermec device to register their work done and to capture digital information about the support ticket they are working on.
Main Features
The Dashboard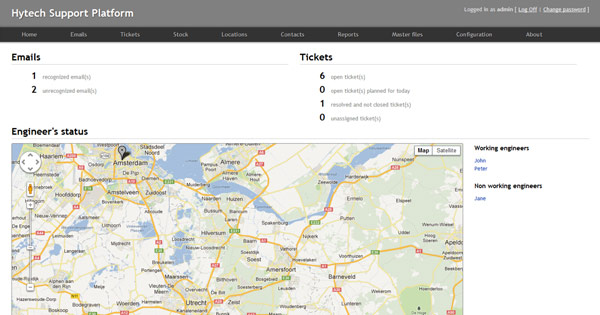 The Dashboard allows the central administration to know the status and location of each engineer. Additionally brings information related to received emails and tickets in process.
By placing the cursor on the Engineer's name, the point on the map will mark his actual location and can quickly get access to each engineer's working day plan only by clicking in the employee's name.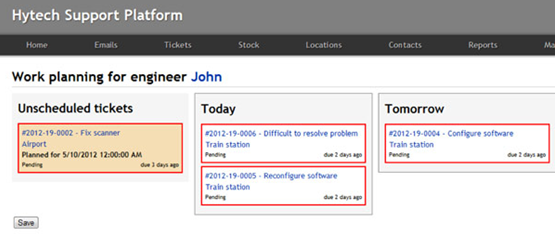 Daily Administration Mails with HSP

The daily review of the problems reported by the Planner is simplified thanks to an HSP's email import feature that automatically reads an email account and separate (based on sender) emails based on customer/location.
Each of these emails will be related to a new ticket on which the external engineer will be working in the following days.


Organizing Engineers Working Day
The Engineer´s working day is planed with the help of the Planning Board. This allows to assign each ticket to an external Engineer and to define in which "order" customers needs to be visited.
Stock Management
HSP provides a Stock Overview that allows to know what parts are currently in possession of an Engineer in order to determine whether he can be assigned to a ticket or not. According to their stock levels it might happen that an Engineer can't be assigned and that he would need to return to base for refilling purposes.

HSP Reporting
Complete set of reports that allow to get information related to invoicing and to the existing tickets providing different filtering options and views.